Delivery for items ordered on our website is available to all UK postcodes (subject to details below).
We endeavour to deliver orders to our customers next day although this is not a guaranteed service. If you require delivery to be by a certain time or date please contact us to discuss additional charges that may be due.
Delivery costs just £3.50 on all orders up to £20.00 and orders over £20.00 are entitled to FREE delivery. These costs are to certain postcode areas as detailed below.
The delivery costs detailed above are to Zone's 0, 1, 2 & 3 which are shown on the map:-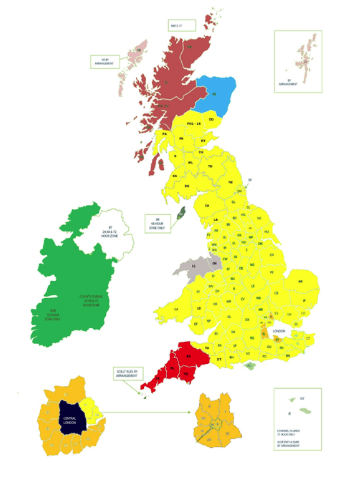 Zone 0 (Grey) – CH & LL
Zone 1 (Yellow) – B, BA, BB, BD, BH, BL, BN, BS, CA, CB, CF, CM, CO, CT, CV, CW, DD, DE, DG, DH, DL, DN, DT, DY, EH, FK, FY, G, GL, GU, HD, HG, HP7+, HR, HU, HX, IG, IP, KA(exclKA27-28), KY,L, LA, LD, LE, LN, LS, LU, M, ME, MK, ML, NE, NG, NN, NP, NR, OL, OX, PA1-19, PA21-35, 37, PE, PH1-14, PO(exc30-41), PR, RG, RH, RM, S, SA, SG, SK, SN, SO, SP, SR, SS, ST, SY, TA, TD, TF, TN, TS, WA, WD, WF, WN, WR, WS, WV, YO.
Zone 2 (Orange & Navy Blue) – AL, BR, CR, DA, E, EC, EN, HA, HP1-6, KT, N, NW, SE, SL, SM, SW, TW, UB, W, WC
Zone 3 (Red) – EX,PL,TQ, TR (exc 21-25)
If your postcode falls outside of the above areas then additional charges may be applicable. Please contact us to discuss.
If you would like to collect your order in person we would love to welcome you to our North Wales showroom at 23 Conway Road, Llandudno Junction, Conwy, LL31 9LU. Please see our opening times and do not hesitate to contact us to discuss. If collecting your order please bring a copy of your order confirmation or invoice and 1 form of identification such as driving licence, passport or bank card.
Please see our returns policy within the Terms & Conditions of this website.